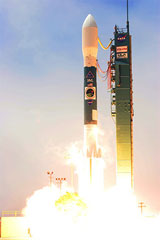 In 1960, a young NASA launched the first of twelve spacecraft on a small, general-purpose rocket called Delta. Cobbled together from the tested pieces of other, less dependable rockets, Delta was intended as a stopgap until more powerful vehicles could be developed.
Over fifty years, dozens of upgrades, and more than 300 successes later, the Delta expendable launch vehicle remains the "magnificent little workhorse" of space. The satellites and space probes it has launched have revolutionized several industries and expanded the boundaries of science, and Delta II has set a high standard for launch vehicle reliability — its record currently stands at 99 consecutive successes.
This site, the basis for a chapter in the NASA History Office book To Reach the High Frontier, provides:
The latest Delta-related news:
JPSS-1 success!
NOAA's JPSS-1 Earth environmental observer was launched in the early morning hours of Saturday, 18 November. The two-stage Delta II vehicle, marking its 99th consecutive success,  also delivered five secondary CubeSat payloads into orbit for investigations by various universities.
JPSS-1 is the first of a new generation of polar-orbiting satellites to monitor Earth's atmosphere, ozone layer, and radiation reflectance. It is a follow-on to the Suomi NPP satellite (Delta 357) which itself was a bridge from previous EOS missions including Aqua (Delta 291) and Aura (Delta 306).
Two launch attempts were scrubbed earlier in the week for various reasons, and ULA postponed a third attempt until upper level winds could come within acceptable limits.
The launch manifest contains one more Delta II, which is expected to launch ICESAT-2 some time in 2018. After that one complete vehicle will remain, which is rumored to be destined for a museum somewhere.