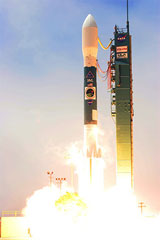 In 1960, a young NASA launched the first of twelve spacecraft on a small, general-purpose rocket called Delta. Cobbled together from the tested pieces of other, less dependable rockets, Delta was intended as a stopgap until more powerful vehicles could be developed.
Fifty years, dozens of upgrades, and more than 300 successes later, the Delta expendable launch vehicle remains the "magnificent little workhorse" of space. The satellites and space probes it has launched have revolutionized several industries and expanded the boundaries of science, and Delta II has set a high standard for launch vehicle reliability — its record currently stands at 93 consecutive successes.
This site, the basis for a chapter in the NASA History Office book To Reach the High Frontier, provides:
The latest Delta-related news:
Delta II reaches the on-ramp
NASA has announced the modification of its NASA Launch Services (NLS) II contract with United Launch Services, putting Delta II back on the menu. Parts for five Delta II vehicles have already been manufactured, and are now in storage; this contract modification will enable ULS to offer them to NASA for launch services between now and June 2020. [NASA Contract Release C11-044, 30-Sep-11]
The announcement means that the Delta II era might last beyond the launch of NPP, currently slated for 27 October. Of course, since the production line is out of commission, these five vehicles will be the last—but at least they have a chance to serve their purpose, rather than gather dust. Any remaining Delta II launches are expected to take place at Vandenberg's SLC-2W.