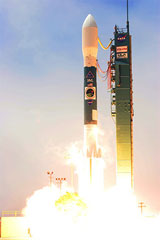 In 1960, a young NASA launched the first of twelve spacecraft on a small, general-purpose rocket called Delta. Cobbled together from the tested pieces of other, less dependable rockets, Delta was intended as a stopgap until more powerful vehicles could be developed.
Fifty years, dozens of upgrades, and more than 300 successes later, the Delta expendable launch vehicle remains the "magnificent little workhorse" of space. The satellites and space probes it has launched have revolutionized several industries and expanded the boundaries of science, and Delta II has set a high standard for launch vehicle reliability — its record currently stands at 93 consecutive successes.
This site, the basis for a chapter in the NASA History Office book To Reach the High Frontier, provides:
The latest Delta-related news:
Brief return
Yes, it has been an awfully long time since a fresh posting. This is the obvious consequence of 1) the Delta II program winding down to a very sporadic last few flights, and 2) me having paying gigs that take precedence over this labor of love. So, in brief:
Today's launch of Delta flight 370 was scrubbed before release of the T-minus 4 minute hold due to upper level winds. A 24-hour turnaround is expected to have a 90% chance of favorable conditions. The United Launch Alliance two-stage Delta Med-Lite vehicle will carry NASA's Soil Moisture Active Passive environmental monitoring satellite into a polar orbit from Vandenberg Air Force Base. As ever, SpaceflightNow.com will carry live coverage.